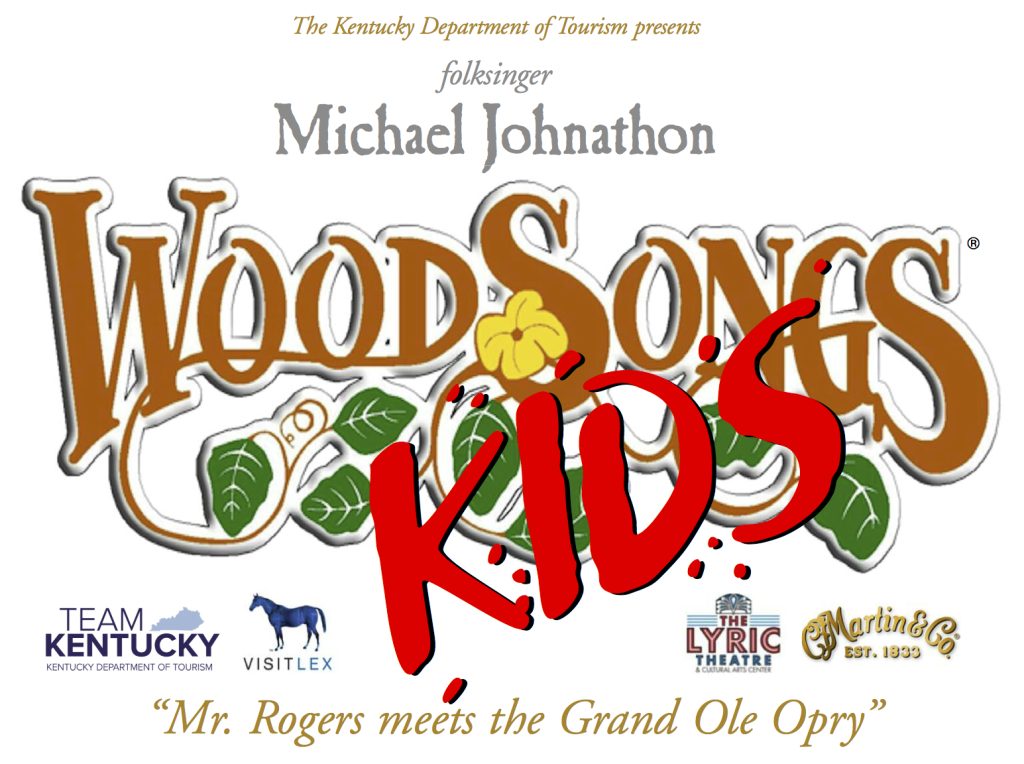 WOODSONGS KIDS is a brand new TV and RADIO series just for kids musicians and performers. Filmed with a theatre audience at the historic LYRIC THEATRE in Lexington, KY.
COMING SOON the WoodSongs Kids Club!
SAMPLE the premier episode watch the YouTube screen below. To see the Public TV season, visit our TV page
PRODUCTION AT THE LYRIC THEATRE: Each night there will be TWO 30 minute episodes taped. Never before in the history of the America, the world for that matter, has the need for music, art and the spirit of the "front porch" been so needed. WOODSONGS KIDS celebrates that spirit.
KIDS, SCHOOL GROUPS, HOME SCHOOL FAMILIES … FREE! Call 859-252-8888 to make FREE reservations or CLICK HERE
LISTEN TO THE WOODSONGS KIDS RADIO EPISODES FROM SEASON 1 (TV Coming Soon)
WSK001-A THE SINGLETON BROTHERS 13-year-old, Cash Singleton,
mandolin Cutter Singleton, 16, guitar and CANDICE GUNN 12
MP3
WSK002-A REED ELLIOTTE 11 piano and
NEW FOUND GAP Bayla 14 banjo, Sylvie 12 fiddle, Judah 11 guitar
MP3
WSK003-A REESE CARROLL 11 banjo and
CALEB HARDIN 14 finger picking guitarist
MP3
WSK004-A BAYLA DAVIS 12 mandolin from TN and
the SPENCER BOYS Caleb 14 Isaac 10 and Joseph 15
MP3
WSK005-A THE BROTHERS YOUNG Ayden 16 and Blane 12 and
ASHLYN SMITH 12 flat picking guitarist in the tradition of Tony Rice.
MP3
WSK006-A PHOEBE WHITE is a 13 year old yodeler and
KYLE YANG 13 classically trained pianist
MP3
WSK007-A COTTON PICKIN KIDS are six bothers and sisters and
ELLE TOWNLEY is 14 from Texas
MP3
WSK008-A SULLIVAN SISTERS Soraya guitar 17 Luciya banjo, 14 and
EMMA-CHARLES TOWNSEND 1O performs at Dollywood
MP3
WSK009-A WYATT ELLIS 13 year old master mandolin player and
SHE'S MY SISTER Amelia (14) Reagan (11) Brown
MP3
WSK010-A OWEN BROCKMAN 12 banjo picker from Centerville, Ohio and
IAN SHAW 16 year old singer songwriter from Wisconsin
MP3
WSK011-A ALEX DAVIS amazing 10 banjo player from TN and
LIAM DAVID FARLEY 13 year old fiddler from W VA
MP3
WSK012-A LILY & NOAH GOEBEL Lily 15 guitar, mandolin, piano and clogs. Noah 13 fiddle
and ALEX DAVIS banjo 10
MP3
WSK013-A ISAAC BIVER 16 fingerstyle guitar player from Freeburg, IL and
THE McMEANS BROTHERS in the tradition of Flatt & Skruggs Connor banjo 14 Ty AG/fiddle 12
MP3
WOODSONGS KIDS TV & RADIO EPISODES for SEASON 2 is IN PRODUCTION NOW
Production is 2 30-minute episodes per evening, available dates are: May 1, June 12, July 10, July 31, Aug 14